I read "
Wonderstruck
" to my eight-year old son, and we both loved it. One character's story is told in Selznick's iconic pencil drawings, and, at a time fifty years later, another character's story is told simultaneously in words. At a certain point in the book, the two character's stories come together.

One of our favorite things about this book was the explanation of museum boxes, curio cabinets, and how museums really came to be. The book follows the creation of several museum exhibits, and blends the stories of two children who are deaf and missing integral parts of their families.
The book also led us to create our first treasure box:

It's a lovely story, and recommended for both children and adults.
Read more of my book reviews and link up as friends at
Goodreads.com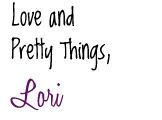 Lori Anderson creates jewelry for her web site, Lori Anderson Designs, and wrote the blog An Artist's Year Off. She's also a contributor to Art Bead Scene and is the creator of the Bead Soup Blog Party.