Oh my.
This is a strange, fantastical story. And it will either enchant you or weird you out. Or a little bit of both.
As a lover of vintage things, I have a special fondness for old photographs and cabinet cards. This book includes tons of old photos culled from ten different people's collections and they all work into the story. If you would like to see some of the photos,
click this link
to the Amazon.com page and then click the short video clip called "Related Media".
The book is about a boy whose grandfather has told him amazing tales of his time in a home in Wales he was sent to "to be safe" during WWII. Of historical note -- many kids were shipped off from various European cities, away from their parents, in hopes they would survive the war, and subsequently became orphans. Very sad.
As the boy grows up, he realizes his grandfather's stories of fighting monsters, a girl who could levitate, an invisible boy, and other "peculiar children" he lived with had to be just that -- stories. Or were they?
The rest is a multi-level story that demands you, the reader, suspend your mind from reality and enjoy the story -- just go with it. The pictures are haunting, interesting, and a couple are so creepy I didn't think at first they were real, but staged (and was even more creeped out when I got to the end of the book and realized they were actual photos. But an interested creeped out.)
Do NOT buy this book on a Kindle or you won't be able to see the photos well or read any of the handwritten letters that are printed on some of the pages. This is a book you want to hold in your hands.
If you read this, let me know what you thought!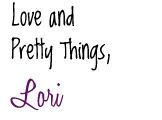 Lori Anderson creates jewelry for her web site, Lori Anderson Designs, and wrote the blog An Artist's Year Off. She's also a contributor to Art Bead Scene and is the creator of the Bead Soup Blog Party.