Rating: Three out of Five Stars
I want to caveat my Three Star rating by saying I adore Sharon Kay Penman. I pre-ordered this book and interrupted what I was currently reading (an unheard of thing for me!) to start "
Lionheart
". While I wasn't sorry I did that, and wasn't at ALL sorry I read this book, to me, it wasn't like her others.
Richard the Lionheart
is a noteworthy, larger-than-life person in history I was dying to learn more about. This particular book covers the crusades, another section of history I didn't know much about. I learned quite a lot about the Crusades, and learned it in a way that will stick with me and was far richer and more interesting than reading a dry history text. However, one of the things I love about Penman's books are her richly developed characters, and I felt that was missing in "Lionheart". Just when I thought a character was on the verge of opening up and blossoming into a richer, more intensely interesting person, Penman moves on to something else.
This minor character development didn't ruin the story for me, though. She DID develop the characters well enough, and in some scenes, QUITE well, to make this book a page-turner. I just missed her usual style. I have to admit, I don't have any idea how any other author out there could have tackled this subject any better, so I give the book Three Stars, meaning yes, I liked it, and yes, all Sharon Kay Penman fans should read it. But a new reader who discovers Penman should start with "
The Sunne in Splendour
" and then her series from the first book and not skip around.
Looking forward to her next book!!!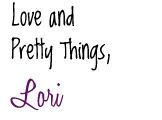 Lori Anderson creates jewelry for her web site, Lori Anderson Designs, and wrote the blog An Artist's Year Off. She's also a contributor to Art Bead Scene and is the creator of the Bead Soup Blog Party.