This is the 2nd book in the epic series "A Song of Ice and Fire" and I continue to be enthralled. There were a few parts of the book concerning Daenerys Targaryen that started to make me drift a bit, but it wasn't enough to make me stop giving the book Five Stars.

I absolutely love the intrigue, the continuing plot twists, the added editions TO the plot, and the way I kept having to stay up WAY past my bedtime reading "just one more chapter".

I can't really say more about the book because I really don't want to spoil anything, but if you love historical fiction, you'll love this. Even thought it's not set in "real world" history and does involve a few dragons and some ghost-like "Others", it's not completely out of this world, and will take you a bit further into a new realm.


On to book #3!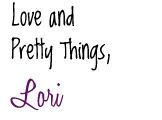 Lori Anderson creates jewelry for her web site, Lori Anderson Designs, and wrote the blog An Artist's Year Off. She's also a contributor to Art Bead Scene and is the creator of the Bead Soup Blog Party.