Now, I am not the self-help book sort. I'll be completely up front about that. But I admire and love this friend, so I read it in one sitting.
Essentially, the book helps you learn how to jump from mediocrity to excellence. To do that, you have to learn to conquer the fear that's holding you back -- and Hendricks' opinion is everyone has at least one fear.
For me, my fears are fairly personal and I'll more than likely go into more detail in blog posts on
my blog.
But I CAN tell you now that I marked up the book with a pencil, pulled out
my perpetual calendar
and started marking things down. I've already made a vow to stop looking at blogs and beading magazines that make me feel inferior, and by marking only a few things a day on my calendar, things seem doable.
I've also decided what I'm good at (more on that on the blog later) and what I need to say goodbye to. After I turn in my book manuscript December 6th -- things are going to change. In order to make the next step, to stop moping and stagnating, things HAVE to.
I didn't give this book Five Stars because I found some of the text a little hokey, and I totally skipped the relationship section -- that's one section I have not a bit of a problem with.
This book won't be for everyone, but it's a quick read, and what can it hurt?
Thanks to my friend Sandi for giving it to me. Let's see if I can stick to it!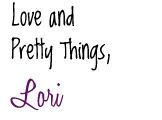 Lori Anderson creates jewelry for her web site, Lori Anderson Designs, and wrote the blog An Artist's Year Off. She's also a contributor to Art Bead Scene and is the creator of the Bead Soup Blog Party.