I've been reading a bit! Let me get you caught up.
"2BR02B" by Kurt Vonnegut
Five out of Five Stars
WOW. What an impactful 12 pages this was. This is my first Vonnegut, but it certainly won't be the last. The Nook version I got had another 12 pages or so about Vonnegut's life and other books, which was just as fascinating to read as the book.


2BR02B (to be or not to be) is a book about our world, a scary Brave New World, with population control and assisted suicide. You can have kids, but you have to find someone who is will to die in order to keep your kids. And people are now able to live into the hundreds, two hundreds, even, because of all the new medical technology.


The story begins with a father in the waiting room. His wife has just had triplets. That's as far as I'll tell you, but you MUST read this story -- it's a tale to think about.
"Diary of a Nursing Sister on the Western Front, 1914-1915"
by Anonymous
Three out of Five Stars
This was a free book on the Kindle, and since I love WWI things, I had to read it.


This is the diary of an unnamed nun who was a nurse during WWI in France. It was fascinating in that she served most of her time on a train hospital -- each section of the train held different patients, and operating theater, dorms, etc. As this was a discovered diary, it has a quick stop and no idea what happened to her. It was enjoyable, and she has to be the merriest war-time nurse I've ever read about, fictional or real, but it drags a little bit, and bits are nebulous as she references things we, the reader, aren't privy to. However, if you're a WWI buff, and read "All Quiet on the Western Front", snag it. It's a quick read.
"Heresy", "Prophecy", and "Sacrilege"
by S. J. Parris
overall, 3 out of 5 stars
This series is a historical fiction mystery trilogy (at least, trilogy so far). In the first book, an Italian monk, Giordano Bruno, is accused of heresy because he's caught reading "heretical" books about Copernicus and believes in his teachings -- essentially, the earth revolves around the sun, which, in the time of Queen Elizabeth I, is a big no-no. Throughout the series, Bruno solves and gets tangled in mysteries and scandals while weaving in the historically factual story of Queen Elizabeth's spies against Mary of Scotland.
The books were slow to start, but halfway through things sped up, and that made them worth my time. The last book was the best, in my opinion, and left enough strings loose to allow for another book, but not TOO many loose strings so you're felt like you MUST read another book. I doubt I'd read any further in this series, but it was interesting. I just wasn't as into astrology, Copernicus, and the occult as this book requires you to be.
So far this year, I've read More to come!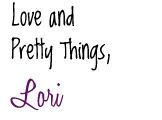 Lori Anderson creates jewelry and bead kits as well as collaborative mixed media art with her son, Zack. Visit her shops by clicking here. She is also the creator of the Bead Soup Blog Party
tm
and author of the book Bead Soup.