"The Forgotten Garden"
by Kate Morton
Five out of Five Stars
This book was absolutely fabulous. The story line didn't waver, and with several dates spanning 1900-2005, it could easily have become confusing -- but it didn't. It's the story of family (good and bad), searching for long lost relatives, and finding out if they're really your relative or not.


The only thing I didn't care for was the skeevy uncle. He rarely showed up in the book and his bit of the story never really got fleshed out (thankfully, in my opinion).


A must read.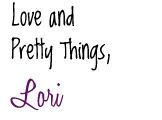 Lori Anderson creates jewelry and bead kits as well as collaborative mixed media art with her son, Zack. Visit her shops by clicking here. She is also the creator of the Bead Soup Blog Party
tm
and author of the book Bead Soup.