Five out of Five Stars
This has to be one of the best books I've read all year.
Magical, mysterious, and creative, this is Erin Morgenstern's first book -- and I can't WAIT for anything else she writes.
The premise -- circus tents show up with no previous announcement. They can appear anywhere in the word. Rather than the colorful tents of the circus we know as kids, these circus tents are striped in black and white. Tent after tent follows a winding path through the circus, and where you may have seen one thing one day, you might find something else later.
Oh -- and the circus is only open at night.
The characters are richly developed, but the main characters, Celia and Marco, are pitted against each other in a competition whose outcome is nebulous and until the end, not really known. At first, the two have no idea who their opponent is, but as it begins to dawn on them, they also realize they're falling in love.
So many magical things happen in this book -- it's emotional, exciting, mesmerizing, and suspenseful. The ending will leave you spellbound.
Read this book!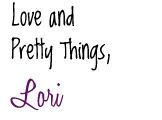 Lori Anderson creates jewelry for her web site, Lori Anderson Designs, and wrote the blog An Artist's Year Off. She's also a contributor to Art Bead Scene and is the creator of the Bead Soup Blog Party.