I must be the only person in the world who hadn't heard of this series, and I finally caved and got the trilogy. I had no idea what the books were even about -- and I devoured the first book in two days.


I found strong elements of "The Running Man" by Stephen King and "The Lottery" by Shirley Jackson, but I don't feel the book is a copy of either. The book stands on its own merit. Katniss and Peeta, the main characters, are fighting to stay alive in the annual Hunger Games, a "game" of survival by wits, weapons, and will. Both main characters are richly developed, and even lesser characters who only appear in a few chapters are given their own importance and significance.


The ending leaves the reader in suspense and eager for the next book. I can't wait to start it. However, I was rather surprised the book was written for a teen audience. A lot of kids in my son's third grade class are completely capable of reading on this level, and I think it might be too much for some of them. I'd recommend a parent read the book first (hardly a chore for most!) and decide then if it's appropriate yet for your child. (Just my two cents, your mileage may vary.)


Excellent book, a completely departure-from-the-world book. Highly recommended.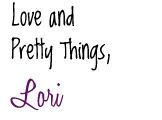 Lori Anderson creates jewelry for her web site, Lori Anderson Designs, and wrote the blog An Artist's Year Off. She's also a contributor to Art Bead Scene and is the creator of the Bead Soup Blog Party.