Warning: Spoiler Alert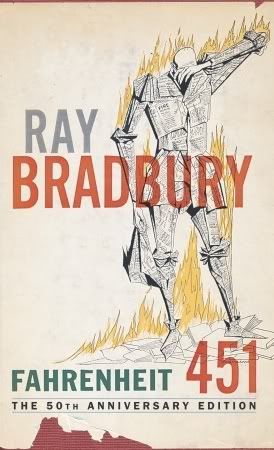 I've long been a fan of Ray Bradbury, but for some reason, this book was never assigned in school and I'd never gotten around to reading it -- criminal!
Fahrenheit 451, is, of course, the temperature at which paper burns. This is a book set in the future, and firemen no longer put out fires (in fact, they scoff at the notion that firemen of that sort even existed) -- they START fires. Specifically, they burn books.
I expected a book about a land of people fighting the firemen, huge crowds of people clamoring against the burning of these books. What shocked me is Bradbury wrote of a future where people were completely content to live with trivial knowledge and floor-to-ceiling televisions -- televisions that in fact could encompass the entire four walls of a room, where a person could "interact" with insipid and fake families in soap operas.
How sad, and terrifying.
The firemen were there to keep the status quo. Sure, there were small pockets of people who saved books, but philosophy and freedom of thought was definitely NOT encouraged. This book centers around a fireman, Montag, who suffers a crisis of thought, and he starts to save books, only to be turned in by his vapid wife. He runs away, falls in with a small band of scholars who, fearful of being caught WITH books, maintain the books in their head until a day when they hope the world will come back around.
I can't imagine a world without books. I devour them, and read virtually every day. And it's no secret that I love to write, and freedom of expression is important to me. I can't imagine living in a world where this sort of thing would happen -- and yet there are countries NOW where books are burned. This very country, the US, burned books, banned books, and in some cases, books are still banned in some schools and libraries.
I admit -- some books are vile. Books about how to make bombs, for instance, are disgusting. And yet -- the slope becomes slippery awfully darned fast. That's when I believe freedom of speech on MY part comes up. If they have the right to write such things, then *I* have the right to proclaim my thoughts about them.
So I ask you -- is there an instance when you would burn a book?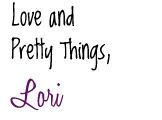 Lori Anderson creates jewelry for her web site, Lori Anderson Designs, and wrote the blog An Artist's Year Off. She's also a contributor to Art Bead Scene. She is also the creator of the Bead Soup Blog Party.