This was another of my lucky Kindle finds -- I believe it was only available for a few days and then POOF, it's no longer available on Kindle. After 20 years, it was re-issued in its original length, and I'm SO VERY GLAD I bought it. Not only is it a passionate, amazing story, but it's a TRUE story.
My favorite books of all time are Diana Gabaldon's "Outlander" series, and any fans of hers will love and devour this book. First, it involves clan Fraser, and occurs right before the Revolutionary War. Thomas Fraser, godson of Simon Fraser, relation of Simon the Fox. Thomas, now titleless was close childhood friends with Jane Maxwell, who had a title but lived in poor gentility. Jane's mother was absolutely dead-set against a match between Thomas and Jane, despite the two's insistence, and looked for a higher match in order to save the penury of her family.
Thomas and Jane, secretly bethrothed, are thrown into a quandry when Thomas is called to fight in America during pre-Revolutionary skirmishes. He tries to reason with Jane that after the two year assignment, he'll have his commission and will be able to better take care of her. The two part with some harsh words (Jane wants to elope, Thomas holds fast).
Jane's mother burns all of Thomas' letters to Jane, and one day, the family is visited by a messenger who tells them that Thomas, along with two others, have been hacked to pieces by Indians. Jane falls into mourning, but her mother continues her matchmaking scheming, and after about six months, has convinced Jane to marry Duke Alexander of Gordon, an earlier rival of Thomas Fraser.
Right before Jane's wedding day, though, the tables are completely overturned when a letter arrives saying that Thomas is NOT dead, but had escaped the fray and has been convalescing in Maryland. His benefactress and nurse has fallen in love with him, though, and had hidden HIS earlier letters to Jane assuring her of his life. Jane ends up marrying Duke Alexander, Thomas arrives home, and we're set with hundreds of pages of starstruck lovers.
I won't say more, but it is SUCH a good read. Not only is the love triangle between Jane, Alexander, and Thomas a heart-rending story, but the history of the time is fascinating. Robert Burns, the poet, shows up -- William Pitt, the prime minister -- the madness of King George -- lots of court intrigues -- there's plenty to keep the pages turning. I lost a lot of much-needed sleep reading this amazing book.
This one ends up on my Favorite Books of All Time list.
Highly recommended.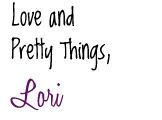 Lori Anderson creates jewelry for her web site, Lori Anderson Designs, and wrote the blog An Artist's Year Off. She's also a contributor to Art Bead Scene. She is also the creator of the Bead Soup Blog Party.